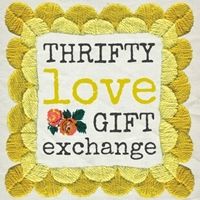 I wish I had had more time to put into this fun project! When I signed up for the gift exchange, I was really excited about it, and then as time went on life got crazy and I wasn't able to put in the effort I was hoping to.
I was however, able to find Nikki some pretty sweet vintage children's books that she mentioned she collected. I wish we had a big thrift type place around the bay area, unfortunately most of them are expensive antique stores! Our new place in Gilroy has some thrifty places near by that I'm already scoping out!
Nikki found some super amazing things for me, it was such a fun package to open!
I love these vintage linens, I cannot wait to use them in our new place!
Aren't those napkins the sweetest?!
Nikki also found these adorable cookie cutters, they will go perfect with my other vintage kitchen items!
And finally, some vintage sewing notions finished off this wonderful package of goodies! They will go well with my grandmothers sewing stuff that I was given!
I guess I am new at this type of gift exchange, I feel bad I didn't put more in my package for Nikki! I was blown away by all of the great things I received! I think I also need to get better at thrifting, everything was just so darn expensive!
Thank you, Nikki, for all of your wonderful finds!!
Can't wait to participate in another exchange like this!